The Story Behind the Navajo Blanket Print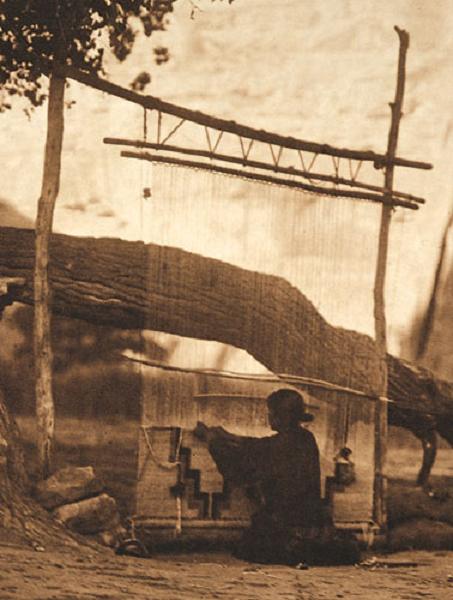 In the quest to stand out against the muted scenery of winter, dynamic and vibrant patterns are essential as they combat the gloomy hues of winter and elevate a cold weather wardrobe.  One such pattern that has been utilized in many recent collections is the Navajo Blanket print.  The colorful modernist aesthetic of the Navajo Blanket print has made it a prominent pattern for many designers this season, but the print itself has a history that is centuries old.
In the late seventh century Pueblo Indians that were fleeing Spanish Conquistadors sought refuge in Navajo communities peppered throughout the southwest.  Legend has it that it was the Pueblo who taught the Navajo the distinct weaving pattern that has come to define Navajo Blankets for over two hundred years.  While Navajo had traditionally constructed their clothing from cotton, the Spanish introduced sheep, and with them, wool to the region upon their arrival.  The breed of sheep that the Spanish brought over were particularly well suited to the southwestern climate and produced a thick, long wool that helped to give Navajo Blankets their trademark warmth.
The Navajo pulled the color palette for their blankets directly from the hues that surrounded them.  In using the earthy tones that filled their scenery the Navajo perfectly captured the essence of Southwestern America within a garment.  As trading routes to the Southwest opened up and the rest of the nation began to have greater access to Native American cultures, the desire for items, such as Navajo Blankets, that were quintessentially Southwestern increased substantially.  This demand has continued to rise consistently throughout the decades and continues today.  Thanks to the distinct look of the blankets as well as their functionality in keeping the wearer warm, the Navajo Blanket pattern has always remained relevant.  This season though many more designers have employed the pattern and featured it in their collections thus giving more modern notoriety to a traditional pattern.  Here are a few applications that will help break up the all too common monotony of winter outfits.
Ralph Lauren
 Filson
Golden Bear
Visvim
Pendleton
The Hillside